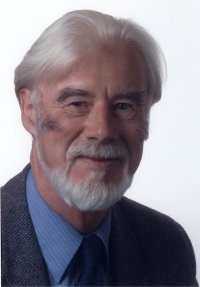 Born in Helensburgh, Scotland, Iain Le May was educated at Glasgow Academy, the Royal College of Science and Technology (now the University of Strathclyde) and Glasgow University. During his undergraduate years he served as a student apprentice with the North British Locomotive Company during the summer vacations in the sandwich degree programme in mechanical engineering. After a short period in the design office of the North British Locomotive Company, he joined the staff of the University of Glasgow Mechanical Engineering Department, being involved in teaching and conducting research as part of a program dealing with the properties of steam at high temperature and pressure, with particular responsibility for corrosion aspects and the effect of the environment on creep behaviour. This involved extensive metallographic studies.

In 1963 he moved to Canada, joining the University of Saskatchewan Mechanical Engineering Department as an Assistant Professor with responsibility for materials teaching and research. He was subsequently promoted to associate and then to Professor, the latter taking place in 1971. During his time at Saskatchewan he established an active group with his graduate students, dealing with a variety of topics relating to the relationships between microstructure and mechanical behaviour, publishing extensively in these areas. He became a member of ASM in 1965 and of IMS in 1969.

In 1970 Dr Le May became a member of the Editorial Advisory Board of "Metallography" (now "Materials Characterization", and was a Member of the IMS Board of Directors from 1971-75 and 1985-95, serving as President 1991-93. He served on the organizing committees for a number of IMS Conventions, including as Technical Program Chairman, Montreal, 1978; General Chairman, Denver 1985; and General Co-Chairman, Montreal, 1994.

He has also been actively involved with ASM, ASME, CIM (including the Metallurgical Society of CIM), NACE and CSME, and has served on many international conference committees and standards committees over the years.

Dr Le May established his consulting company, Metallurgical Consulting Services Ltd., based in Saskatoon, in 1978, and started MCS Associates, Inc., in Pittsburgh in 1981, a company that is today run by his close friend and associate Dr Chris Bagnall. He left the University of Saskatchewan in 1985 to devote himself to his consulting practice: nonetheless he continues to take a strong interest in university and research activities, continuing to serve as an adjunct Professor in the post-graduate program of Department of Materials and Metallurgical Engineering, Federal University of Rio de Janeiro (COPPE/UFRJ), Brazil.

Dr Le May has traveled widely both in connection with his consulting work as well as in cooperative projects, including the establishment of links with developing countries through the Canadian International Development Research Centre. He has also been involved for many years in cooperative work with several Latin American countries.

Dr Le May has more than 300 publications, including several books, notably "Principles of Mechanical Metallurgy", Elsevier, 1980 and "Copper in Iron and Steel" (with Dr L. McD. Schetky), Wiley, 1982, and has written widely on the mechanical behaviour of materials, including many papers on aspects of creep, fatigue and fracture, as well as on metallographic techniques and failure analysis procedures.

He has consulted for many companies and agencies in Canada, USA, Brazil, Colombia, Japan, South Africa and other countries. He also has appeared as an expert witness in product liability and related cases on many occasions.

A Fellow of ASM and ASME, and of the Royal Society for the encouragement of Arts, Manufactures & Commerce (FRSA). Dr Le May continues to serve on a number of society, national and international committees. He is a registered Professional Engineer in the Provinces of Alberta, Saskatchewan, Manitoba, and Newfoundland and Labrador.